Photo collage. Photo: IKEA
As part of my seemingly endless pursuit to beautify my apartment I decided to decorate our largest, most-central wall in our living room with six black and white prints. I found dozens of unique 'city map prints' which feature intricate black line drawings of maps from various cities at StudioKMO's Etsy store. Since I wanted to hang six 11″ x 14″ prints on the wall it was extremely lucky they're priced at only $35 each!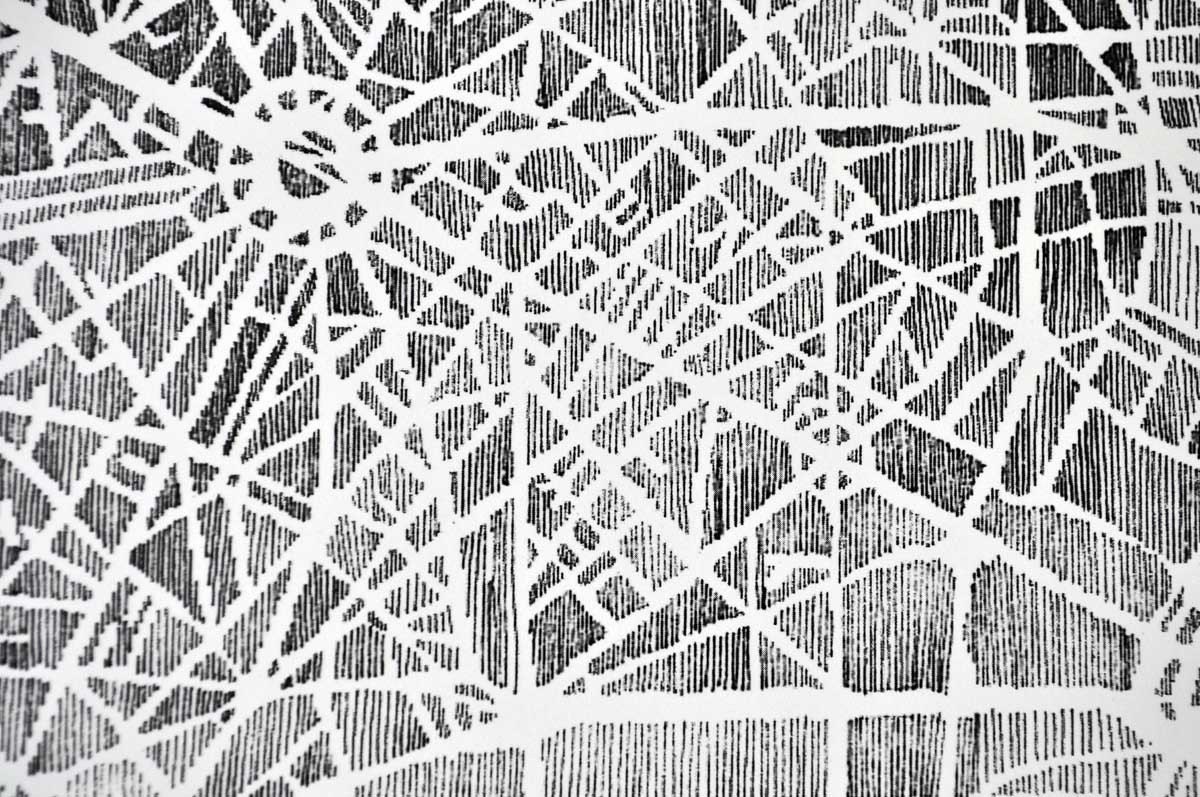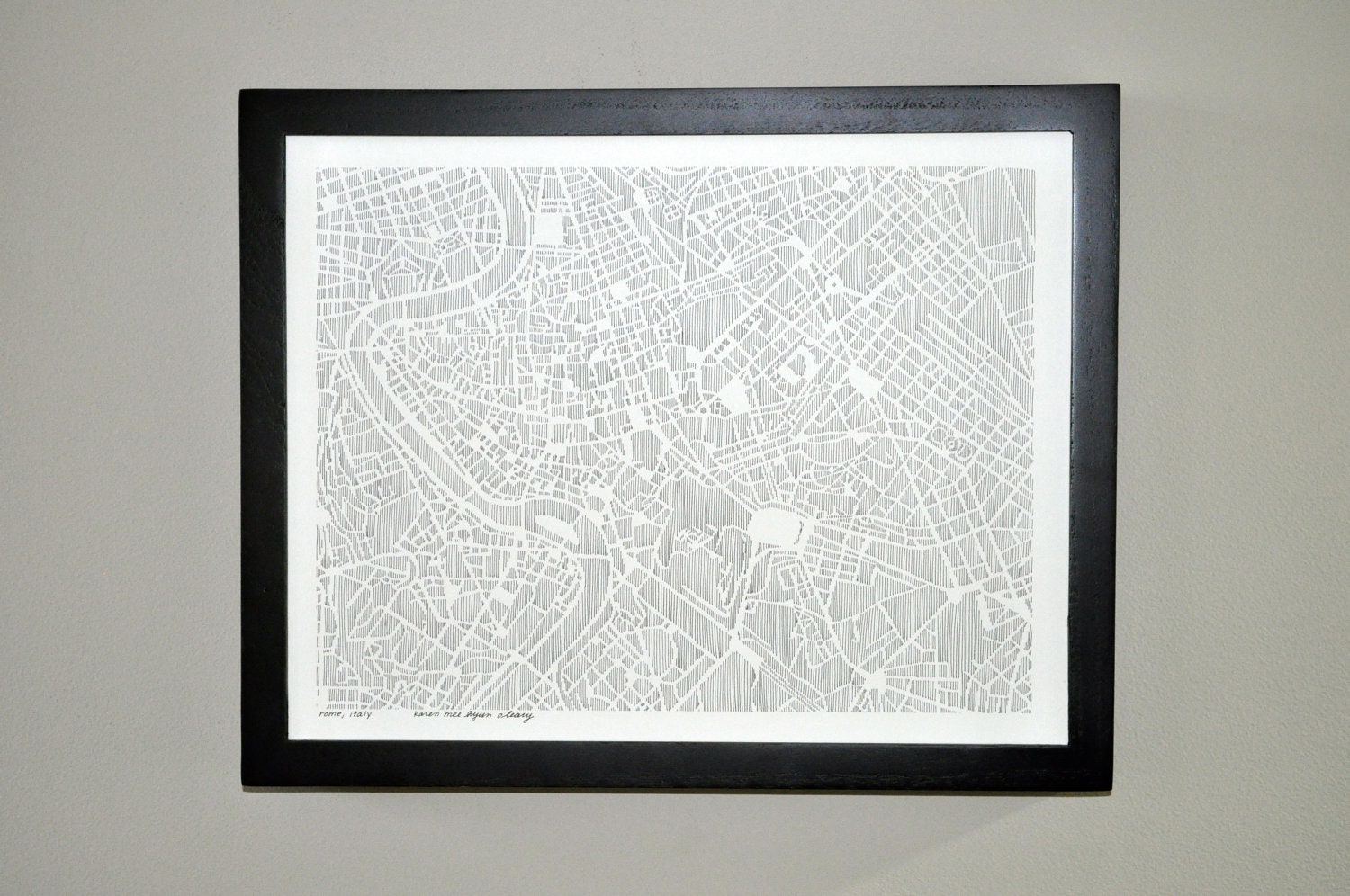 Top: Paris print. Bottom: Rome print. Photos: StudioKMO.
The idea of finally filling our most noticeably empty wall was an exciting one. I decided to use 19 3/4″ x 15 3/4″ RIBBA frames ($9.99 from IKEA) which sadly only fit prints larger than 15 1/4″ x 11 3/4″ if you use the included mat. Since I really wanted to mat these prints I decided I would have to adjust pre-cut 11″ x 14″ mats (interior opening of 10 1/2″ x 13 1/2″ on a 16″ x 20″ mat) to make the prints work in the RIBBA frames. For this part of the project I bought an X-Acto knife, 18″ x 12″ cutting mat and 18″ steel ruler along with the pre-cut mats ― all from Amazon ― for around $50 (add shipping if you don't have Amazon Prime).
WHAT YOU NEED
― a picture hanging set (good set available at IKEA for $4 or find one at your local hardware store)
― laser level (again, IKEA offers a nice, affordable option for $13)
― newspaper or any other large sheets of paper
― Scotch tape
― pencil
― tape measure
STEP 1
Figure out (even if only loosely) how you want to set up your wall. Once the paper frame models you cut are up on the wall, you can adjust them to your liking since the Scotch tape holding them to the wall is only semi-adhesive (it won't pull off paint).
STEP 2
Measure your frames then cut the sheets of paper down to the size of the frames. (Make sure not to trace the frames with a pen or pencil unless they are shrink-wrapped.)
STEP 3
Start by estimating the location of your largest piece first then put up the paper model using Scotch tape, check your work and go from there. Once you have a solid idea of what you want, take your laser level and use a partner to evenly put the pieces up on the wall.
STEP 4
After correctly aligning all the frame model papers on the wall, use the tape measure to measure the distance between the top of the hanging wire and the top edge of the frame (be sure to measure each frame separately and that the wire is stretched to it's highest point).
STEP 5
Use the measurements to mark where to align the bottom hanging portion of the picture hanging bracket by measuring down from the top of each paper model.
STEP 6
Now that you know where to put your hanging brackets you can nail them into the wall. Be careful to align the very lowest point of the bracket with the mark you made in Step 4.
STEP 7
Remove the paper frame models from the wall.
STEP 8
With the brackets in place and paper removed, carefully hang the frames and use the laser level to make sure they are even.
STEP 9 (optional, but I know you'll do it)
Admire your handiwork!

(Sorry for the crummy photos, my camera just died!)
I really can't begin to tell you how great feels to finally have some great art pieces covering that wall. It was empty for almost 6 months and was the bane of my existence, staring straight at me every time I entered our apartment. I really couldn't be more pleased with the way it turned out (and that I didn't somehow screw it up).
Unfortunately, I don't have the mats and tools I need to cut them quite yet. I should have them on Thursday and I'll add some updated photos of the prints in the matted frames then. I did decide to hang the empty frames since I knew that would be a semi-time-consuming process and am beyond excited to finally have something on that wall.